INVITED LECTURES
Hillar cholangiocarcinoma: pathogenesis, preoperative planing and surgical management
Konstantinos Bramis MD, PhD, MSc., 2nd Department of Surgery, Aretaieion Hospital, National and Kapodistrian University of Athens, Athens, Greece

download CV
Date: 2022
Epidemiology:
Johns Hopkins group classification: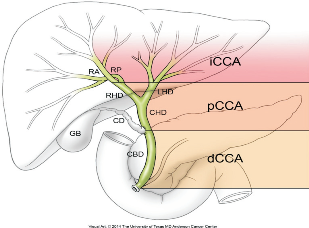 Rare tumors with decreasing incidence in the USA, according to SEER data.
Pathogenesis:
Most cases are sporadic but there are specific risk factors such as primary sclerosing cholangitis, biliary tree cystic disease and hepaticolithiasis.
Preoperative planning:
Preoperative planning includes the patient`s performance status assessment, staging of the disease as well as assessment of the liver function and functional liver remnant (FLR). Drainage of the biliary tree if necessary, imaging to rule out metastatic disease, and classification of the tumor are necessary steps preoperatively. Imaging includes noninvasive diagnostic CT and MRI/MRCP. Invasive tests like ERCP and PTC maybe also of great importance in setting the diagnosis through FNA biopsies.
Surgical management:
Resection of the involved intra- and extrahepatic bile ducts, as well as the ipsilateral liver, is the standard of care for suitable patients with R0 surgical margins. At the time of operative exploration, 20 - 50% of patients are found to be unresectable.
Median survival and 5-year survival among patients with a negative margin (R0) resection range from 27 months to 58 months and from 27% to 45%.
An alternative way to manage surgically these patients, in selected cases is liver transplantation with good outcomes.